Localization: To Support and Promote Languages and Cultures
The majority of the world can now access the internet from a phone
Too many people are forced to use English or another widely used language, especially those from internet developing countries as there are few or zero online tools in their mother tongue. This is why It is important to reach out to those users and solve this linguistic equation.


One of Simple Different's core values is to respect and promote the rich diversity of the worlds' languages and cultures, before thinking about a financial conversion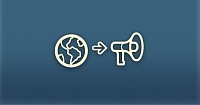 SimDif 2 is designed to promote underrepresented languages and cultures
Your own native language
BabelDif is a tool inside of SimDif 2 that allows users to translate the app into their own language. It is built into the core of the app, giving users a platform to contribute and localize the app directly, by themselves.
BabelDif is already well advanced. Within the next 3 years, it will be able to facilitate the translation of the app into more than 100 Languages. BabelDif was inspired by Douglas Adams' Babel Fish.:-)
It is important to give users the ability to better understand and control the tool they use to build their own presence on the web.
FairDif further supports this initiative by offering a fair pricing index for each country: